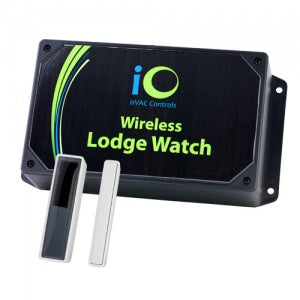 IO Hvac Controls LW-3 Lodge Watch
IO Hvac Controls LW-3 Lodge Watch. WIRELESS LODGE WATCH FOR 3-DOORS AND/OR WINDOWS (INCLUDES DOOR TRANSMITTER, CIRCUIT BOARD AND ENCLOSED RECEIVER).
This wireless energy monitor is designed to save money on energy costs by making sure your equipment isn't running needlessly because a door or window has been left open The LW-3 detects when a door or window is left open for more than 2 minutes. The LW-3 then locks out the HVAC equipment until it detects the closure of the door or window for 2 minutes. This saves on energy costs, but also reduces short cycling of the HVAC equipment, reducing equipment icing, condensate pan overflow and wear in the equipment. Available for up to 4 doors and/or windows. Additional doors and/or windows can be added. Call for specifications on systems requiring more than 4 transmitters.
Lodge Watch Receiver Module is for indoor use and installation only.  For outdoor installation of the receiver module, make sure you specify our Lodge Watch systems in a water tight enclosure. LW1-WT, LW2-WT, LW3-WT, LW4-WT. Door/Window sensors are only for indoor use.  There are no door/window sensors available for outdoor use.

Specifications:
Receiver Module Dimensions: 4.75" Height x 8.75" Width x 2.25" Depth
Sensor Dimensions: 3.15" Height x 1.3" Width x .60" Depth
Transmitter Power: Solar or CR1216 battery
Control Module Power: 24VAC
Operating Temperatures: -30° F to 140° F
Transmission Range: 80 ft.
Frequency: 902MHz
Compliance: FCC, IC
QUESTIONS & ANSWERS
Have a Question?
Be the first to ask a question about this.
Ask a Question